Documents/Articles
An Interaction program on
"Community Property Rights in Manifestos of Political Parties/New Constitution"
30th June, 2013

Background
An Interaction program entitled "Community Property Rights in Manifestos of Political Parties/New Constitution was held on 30th June 2013 at Union house Kathmandu. The program was jointly organized by Community-based Forestry Supporters' Network Nepal (COFSUN) and Green Media Nepal.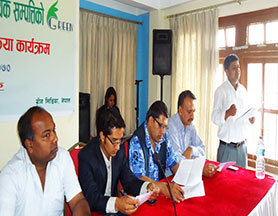 An interaction was done among multi-stakeholders (Representatives of NRM related different federations), representatives of major political parties (Mr. Pradip Nepal from CPN UML, Dr. Prakash Saran Mahat from Nepali Congress, Mr. Khimlal Devkota from Unified CPN Maoist and Mr. Manish Kumar Suman from Madhesi party Sadvawana) and media personnel on the issue of common property rights. Altogether, 56 persons have their active participation. The programme was initiated by Mrs. Sunita Pokharel with the chair of Mr. Hari Neupane and representatives of four major political parties as chief guests.
Conceptual Presentations
Mr. Bhola Khatiwada, chairperson of COFSUN Nepal presented a welcome speech. He talked about the motive of organizing this program and also highlighted the community based scenarios of Nepal. He mentioned that community based organizations are playing an important role in conservation and management of natural resources. Through the effort of community forestry, naked brown slopes of mountains were converted in to greenery. Along with three decade long journey of community forestry, more than 18 thousands community forestry user groups were legally formed and approximately 1 crore 20 lakh people are directly associated with it. About 1.7 million hectare forests were managed successfully through communities as community forestry. Under this campaign, more than two lakh community leaders are being elected and are mobilizing as volunteers. In Nepal, formally and informally more than 30 thousands organizations are community based. Likewise in water sector, more than 35 thousands drinking water infrastructures are mobilizing through community process and about 20 thousands community irrigation systems are in operation. There are 241 community electricity systems in all over the country and also it is believed that, more than one lakh natural resource based community organizations are actively working in Nepal. He further said that, most of the political parties of Nepal have included socialism as a final goal in their manifestos but it is impossible to achieve this goal of socialism without promotion of community property. In constitution there is a provision of only government and private property but not common property. If we want to make country prosperous through socialism, community property should be ensured in constitution as fundamental right. He further emphasized that, local community's right on natural resources and community's right on community property if managed constitutionally, it will give more encouragement to local communities for natural resource management. So that it is necessary to include these issues in the election manifestos of political parties.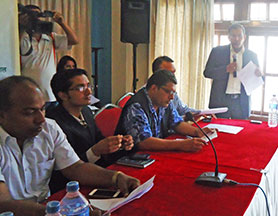 Dr. Bharat Pokharel, Natural Resource Management Expert said, collective right is most important to provide more rights to community and it also supports the recognition of community roles. He further mentioned that, collective right should be included in the fundamental right and it will help to recognize collective movement. He defined right by 4-R principles (Right, Responsibility, Role and Risk on resources). Government should be responsible to secure collective rights in constitution. If constitution guaranteed these aspects, then only we can secure the findings of Jana andolan. In context of nation reconstruction, many discussions were done mainly focused on how many states and how to divide them but they neglected the rights of people who are involved in the conservation of natural resources at community level. It will be better to have discussion among state, person and community at first level and then only discussion at second level. If political parties includes collective rights in their election manifestos, then it can be useful to win believes of people without paying.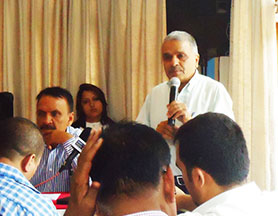 Mr. Dilli Raj Ghimire, confederation coordinator, said, there are different modalities and approaches for natural resource management. He further stated that, sustainable management of natural resources and judiciary distribution system can help to bring prosperity in community and overall development of the country. In NRM sector government is unable to provide appropriate service due to centralized decision based process, over exploitation of natural resources for power political selfishness and depend on expensive bureaucracy. Likewise in private sector deformation has been arises as they are concentrated only on more profit oriented activities rather than sustainable management. However, in last two decades, management of natural resources by communities has significant contribution in poverty reduction, local enterprises development, community development etc. Being as a representative of confederation, confederation has prepared following agendas with the support of different organizations and likely to see these agendas in election manifestos of political parties and also secure in new constitution for sustainable management of natural resources.
Constitutional recognition of community property rights on natural resources and government should prioritize community based natural resource management system.
Public, indigene private, community partnership based constitutional policy for investment in the sector of natural resources.
While doing natural resource related any treaty agreement, there should be a constitutional provision to pass from at least two third majority of parliament.
Constitutional management for social, cultural and economic transformation, gender equality and land reform should be done to transfer cultivable land to real farmers and land ownership on any type of land including agricultural land should not provided to foreign person/company/industry and organizations.
Constitutional management for formulation of natural resource commission as a constitutional body.
Community property right in natural resources, right of environmental justice, right of clean drinking water, health and cleanliness, energy right, adaptation right, right of cultivable land for farmers, right of food security, right of female of ancestral property including land, right of settlement, equitable assess in natural resources for indigenous, dalit, female and oppressed group
Views of Political leaders on Community Property Right
Mr. Khimlal Devkota, representative of unified CPN Maoist, gave Congratulations and appreciates this type of effort. He said this is an import subject to concern and without any delay we have to move fast in this direction. His party will prioritize the issues of local ownership on natural resources, modernization of agriculture and scientific land reforms. He further mentioned that, without water, forest, land, medicinal plants and human resources the prosperity of country is not possible. His party is always positive in these matters but to include these agendas in election manifestos and constitution we have to be clear about our agendas. He gave some suggestions regarding these agendas and said further discussion is necessary on these issues. He mentioned that at first we have to be clear about the difference between commune and community right, group right and community right. He further added, individual person is a natural resource but community is a legal person.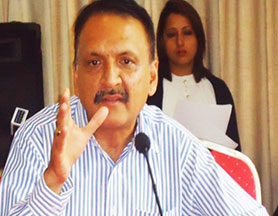 Dr. Prakash Saran Mahat, representative from Nepali Congress, Said, his party is raising the issues of forest, land and water from the beginning. Community role is very important for effective management of natural resources. Due to establishment of communities right on natural resources, the condition of community forestry has been improving in Nepal and these issues should be included in future constitution as a fundamental right. He further mentioned, an individual right is more important than community right because if individual right secures it secures community rights. There is an integrated relationship between natural resources and their respected communities. So, communities should be responsible for its management and utilization. He really appreciates this type of campaigns and gave congratulations for its initiation. In context of given agendas, he gave some suggestions like, the points are too vague and we have to specify them, community is dynamic and how can we manage good governance in community, land can be provided to foreigners in lease with certain terms and conditions, there are too many commissions in Nepal so natural resource commission is not necessary as we are believing more in words not in habit etc. If we address all these things in appropriate way, then it helps betterment of the country. He further added, constitutionally approved things will be placed but we have to concentrate on law making process which do not cause any difficulties in community as well as in future generation rights. Finally he gave commitment for inclusion of community property right's agendas in his party's election manifesto.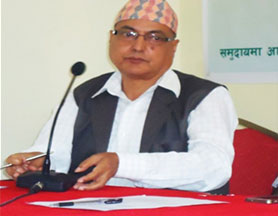 Mr. Pradip Nepal, representative of CPN UML, said these agendas are very important to put in manifestos. Natural resources Rights should be given to community and in context of Nepal, government have to manage a system to provide citizenship from community level. He further stated that, everybody talks about civic supremacy but in reality it is not implemented. Freedom to an individual should be given as much as possible. He strongly put his voice on election of local government to make strong political system and establish democracy in the country. Although central government is becoming weaker but we have to make local government and community very strong. There is no any coordination between political system and public understanding. Finally, He committed to put these agendas in his party's election manifestos by making these agendas shorter and sweet through further discussion.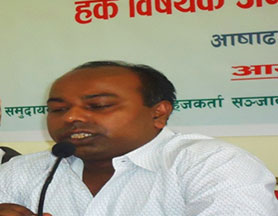 Mr. Manish Kumar Suman, representative of Sadvawan party, mentioned natural resources are the fundamental right of community and one of the agenda of his party is also to secure community's right on natural resources. He further added, all the agendas are in favors of community and his party will include these in election manifesto. He also gave best wishes for this campaign.
Floor Discussion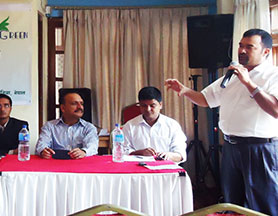 Mr. Ghanshyam Pandey, Expert on natural resource management, highlighted the global scenario of community managed forestry and the status of people. In Latin America, about 34% forest is managed by government and 66% by community. Likewise in Africa, 98% forest is managed by government and only 2% by communities. In Asia, 75% forest is managed by government and 25% by communities. If we see the status of people in these regions, people of Africa are suffering from poverty and hunger but in Latin America, situation is reverse because of community based management system. Likewise in China, to make his citizen rich, government has handed over national forests to communities. Hence for the prosperity of people, right on natural resources should be given to communities and associated federations should be mobilized freely. Government should manage favorable environment for sustainable management and market assess of all products.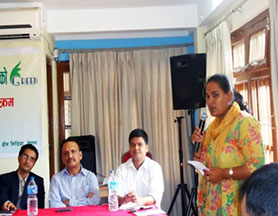 Mrs. Apsara Chapagain, Chairperson, FECOFUN Nepal, gave congratulations to both organizations for organizing this event. She mentioned that instability in politics causes instability in natural resource management. She further added how we can establish coordination between groups having view on to have or not to have community rights. This is a big challenge. Though Nepal is practicing republic democratic system but in case of natural resources this system is still lacking. Natural resources are degrading day by day. Due to this community rights on natural resources is very necessary. She further mentioned that, community is formed by a group of organized people. So, there is no any difficulty in providing community right as a fundamental right.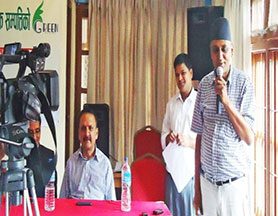 Mr. Anand Pokharel, Co-coordinator of Natural Resource Management People's Parliament, said until when young and skilled human resources won't be mobilized in the country, development is impossible. So, this campaign will play an important role to return young people who went to foreign countries. He further mentioned that, prosperity is impossible without green economy and political leader should internalize it. We should mobilize our resources for the development but unfortunately our country became a place to shell others products and this will not lead to development. Hence to counter foreign investment, sovereign development fund is necessary. He further stated that, due to commission racy and culture of interfering others work, projects are not getting favorable environment to operate. He requested all to cooperate in the development of the country and also requested to all political leaders to include these agendas in their election manifestos not for their commitment of vote but for the country's prosperity and development. Finally he thanks the organizers for organizing this type of programme which is necessary at this period.
In conclusion, all political parties believe in sustainable management of natural resources is possible only through effective participation of communities and hence communities should be provided right to use and conservation. Finally they committed to include above mentioned agendas in their party's election manifestos and said this is just an initiation to establish community's right on natural resources. The programme was wrapped up from Mr. Hari Neupane by thanking all the participants for their presence and committed to raise such issues in coming days. This programme was broadcasted worldwide through 17 Television channels (Sagarmatha television, Imange Channel, ABC television, White Himalaya, TTV, AV news, Channel Nepal, Araniko TV, Himsikhar TV, Mountain TV, NTV, Nepal 1, NTV plus, Makalu TV, Nepali TV UK, News 24), 6 radio stations (Gorkha FM, Nepal FM, Ujyalo FM, Image FM, Capital FM, and on aired live through Image FM 106.3 MGz) and Published in 6 National Newspapers (Naya Patrika, Karobar daily, Nepal Samachar Patra, Himalaya times, Arthik Abhiyan Dainik and Commander Post).